Thanks to the "1001 Books to Read Before you Die" list I've been able to explore all types of genres in an effort to find a favourite. I believe I've found this genre, and that is Pulp; not crime or mystery in general, but the dark and gritty style of Hard-Boiled and Noir novels. Pulp fiction originated as a type of inexpensive fiction magazine published from 1896 through the 1950s commonly releasing adventure, detective/mystery, fantasy, gangster and science fiction stories. One of the more famous pulp magazines was known as Black Mask which produced a lot of crime stories which became the basis of the Hard-Boiled and Noir genres.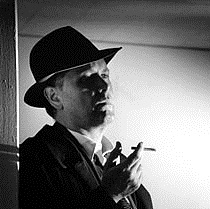 Now there isn't much difference between the two genres, both written in a laconic, dispassionate, often ironic style of realism. Hard-Boiled is the detective genre, distinguished by the unsentimental portrayal of violence and sex, made famous by Dashiell Hammett and Raymond Chandler. While Noir focuses on a plot where the protagonist is the victim, suspect, or perpetrator; this style was commonly used by seminal author James M Cain. While the two genres are not black and white, often authors like Jim Thompson would blur the lines by writing about a detective or police officer being the perpetrator of the crimes.
In the film industry these types of movies are all classed as noir movies, which has been a huge success in France and in recent years has been modernised (both in films and literature) creating a new genre known as Neo-Noir. This genre is not necessarily a crime melodrama set in modern times but often set in the future (blending Noir with Science Fiction and Cyberpunk).
From my experience, the pulp genre seems to become popular in waves; first in the 1930 and 40's with the original greats like Dashiell Hammett, Raymond Chandler and James M Cain. Later in the 1950 and 60's it was revived again with authors like Jim Thompson, Ross MacDonald, David Goodis and Charles Williams. Then again in the 1980 and 90's with authors like Elmore Leonard, Robert B. Parker, Walter Mosley and James Ellroy. It is possible that this genre is on the verge of making another come back; with The Girl With The Dragon Tattoo been compared to this genre and the popularity of the new video game LA Noire which has sparked a book of short stories based in that world. I can only hope, but with so many dime store books to catch up with, I think I will be alright without the genre making a comeback.
I really took to these genres, simply for the gritty realism, strong dialogue and wittiness and/or irony. While I have a lot to get through, I thought I would end this post with a top 5, for anyone interested in trying this genre out. If you have any recommendations, please let me know.
5. Pop. 1280 by Jim Thompson
The experimental style of Jim Thomspon made him one of darkest authors in this genre. The protagonist in this book is disturbing and still remains very realistic.
4. Red Harvest by Dashiell Hammett
While many people would choose The Maltese Falcon, this book has more violence, gangsters and corruption.
3. The Black Dahlia by James Ellroy
Using a true crime as the basis of this book, The Black Dahlia is both modern (written in 1987) and keeping to the same style and feel to many of the great pulp authors.
2. The Postman Always Rings Twice by James M. Cain
This book was full of sexuality and violence that was startling in the time and was ended up being banned in Boston. It's a shining example of what a good noir novel should be like.
1. The Long Goodbye by Raymond Chandler
While some people would recommend The Big Sleep or Farewell, My Lovely; The Long Goodbye gets the nod from me for its social criticism and autobiographical elements.