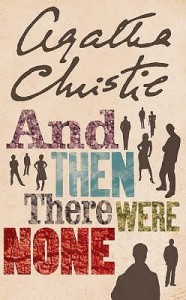 This is the end of 2013 and what a great year we have had. Let's have a quick look back at the year for the book club on Goodreads and our books of the months. For me some of the highlights included; The Bell Jar, The Strange Case of Dr. Jekyll and Mr Hyde, Lolita, Hard-Boiled Wonderland and the End of the World, The Fault in our Stars and The Shadow of the Wind. We seem to consistently get great books to read, including this month's book And Then There Were None. I wasn't sure what to expect, this was my first Agatha Christie and while I had some issues, I will read her again.
Next month we are reading an espionage novel, which will be Tinker, Tailor, Soldier, Spy by John le Carré. I've read this novel and really enjoyed it, so I'm excited to see what others think; the movie is pretty great too. I hope everyone had a great holiday period and look forward to the great things to come in 2014. If you're not aware, the book discussion and everything else will be happening over on the Goodreads forums, so feel free to join in there.
This has also been a great year for this blog too, which spawned last year from the Goodreads book club. I originally hoped this would be a source for all things book club related but turned into a book journal of my life as a literary explorer. I'm glad it did turn into what it is today; I've had so much fun book blogging and sharing my bookish thoughts. For my favourite books of 2013, check out the post but I wanted to share some of my favourite posts.
As always this month lead me to discover some great books including The Explorer and The Echo by James Smythe, Maddaddam by Margaret Atwood, Careless People by Sarah Churchwell and a reread of Frankenstein. I thought maybe James Smythe (he made my top books of 2013 list twice) or even Frankenstein would be the highlights of the month but it was actually a non-fiction book; 84 Charing Cross Road by Helene Hanff. It's only a collection of letters between a book lover and a second-hand book store but for any book lover, it reads like a love letter to books.