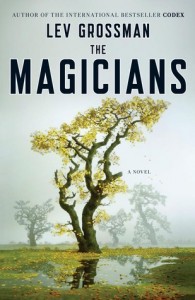 April has been an interesting month; I expected to get heaps of reading done and, to one extent, I have done just that. But also, I got rather sick during my time off and that did limit some of the reading time I was so excited about. Overall April was a great month, with plenty of books read and some extra time off work. I hope everyone else's April was just as fruitful without any illnesses.
This month our book club read was The Magicians by Lev Grossman as part of our fantasy challenge. This was an interesting selection, more coming of age than fantasy, check out my review to find out what I thought. Next month we are going to dive into The Secret Garden by Frances Hodgson Burnett. This is a classic novel and is part of our children's literature theme; I can't remember what this is about so this will be a new experience for me and I will also be using the novel for The Literary Exploration Reading Challenge. If you're not aware, the book discussion and everything else will be happening over on the Goodreads forums, so feel free to join in there.
I read some decent books in April included the first Veronica Mars novel The Thousand-Dollar Tan Line plus others along the lines of The Fever by Megan Abbott, The Wives of Los Alamos and Summer House with Swimming Pool by Herman Koch. The biggest highlight will have to be The Sorrows of Young Werther by Johann Wolfgang von Goethe, which will probably get read over and over again. What have you been reading this month and what were the highlights?