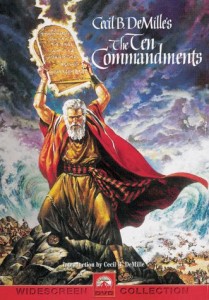 Title: The Ten Commandments
Released: 1956 
Director: Cecil B. DeMille
Stars: Charlton Heston, Yul Brynner and Anne Baxter
Genre: Epic Drama
I am sure many people have seen the religious epic The Ten Commandments directed by Cecil B. DeMille, and stars Charlton Heston, Yul Brynner and Anne Baxter (with a small role given to Vincent Price). It tells the story of Moses and the Ten Commandments, found in the Bible (the book of Exodus to be exact). A remake of his 1923 silent movie but extended out to an epic three and a half hour run time. You probably know that it was nominated for multiple awards and considered a classic, but rewatching this recently I found it nothing but American propaganda.
From the very start of the movie, Cecil B. DeMille comes out and introduces the movie, but a few things stood out to me. Firstly Ramses is referred to as a dictator as well as mentioning if men should be ruled by God or man. He also mentions that the slaves were the property of the State, making the connection to communism clear from the very start of the movie.
"The theme of this picture is whether men ought to be ruled by God's law or whether they ought to be ruled by the whims of a dictator like Ramses. Are men the property of the State or are they free souls under God? This same battle continues throughout the world today."
Artistically the scenes depicting Egypt are often shot with a red filter, in an attempt to help draw a connection to the Soviet Union. In fact, the actor who plays Rameses II, Yul Brynner, is a Russian born actor. While his heritage is more complicated than calling Brynner a Russian, he was born in Vladivostok and he even adopted a Russian accent for The Ten Commandments. This feels like a deliberate and obvious attempt to push DeMille's agenda.
While "Rameses personifies Communist totalitarianism" according to Adele Reinhartz in her book Bible and Cinema: An Introduction, then Moses is the picture of the American ideal. In fact all the major roles of Hebrews in the movie are cast to blue eyed American actors. This pushes the agenda of America being God's chosen people. If you think of the history America escaping religious persecution, it can be easily compared to that of the Hebrews.
In fact it is said that Cecil B. DeMille and the screenwriters consulted the works of Philo, Josephus, Eusebius, the Jewish Midrash and even the Qu'ran while writing the screenplay. The idea was to unite three major religions (Judaism, Christianity and Islam) together in a battle against a common enemy. The Soviet Union was an atheist state and DeMille thought keeping religion on the side of good will help spread his anti-communist propaganda.
My wife recently had to do an assignment on this movie for university, so I would like to thank her for doing most of the research for this one. During our many discussions on this film we have discovered this film works as a political allegory against communism as well as portraying America as God's chosen people. Rather than discuss the theological elements and exploring DeMille's own religious beliefs that he projected on the audience, I wanted to focus my review on the propaganda, I think it is an interesting topic and will change the way you view this movie in the future.
I remember thinking this was a pretty average and overly blotted movie but I had not seen it for a very long time. Rewatching The Ten Commandments now was a very different experience. I could not help but notice the allegory and felt like Cecil B. DeMille was blatantly beating me over the head with his own agenda. I am starting to watch movies with a more critical mind and it is interesting to see the symbolism and motifs that show up in films. The more I learn the more I fell manipulated by films; in particular Hollywood. There is more worth talking about with this movie but for now I think I have said enough.