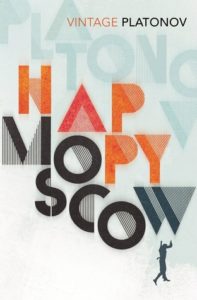 Title: Happy Moscow (Goodreads)
Author: Andrei Platonov
Translator: Robert Chandler
Published: Vintage, 1991
Pages: 263
Genres: Short Stories
My Copy: Library Book

Buy: Amazon, Book Depository (or visit your local Indie bookstore)
"Life has become better, comrades, life has become merrier" – Joseph Stalin
Happy Moscow was an unfinished novel by Andrei Platonov, finally published in 1991 and yet it still became one of his greatest works. It is believed that Platonov started the novel in about 1932 but abandoned it a few years later. Happy Moscow tells the story of Moscow (or Moskva) Ivanovna Chestnova, an orphan trying to make her way through life. Named after the Soviet capital, Moscow becomes a metaphor for life under Stalin.
The story of a woman's struggle through life is an obvious metaphor for Russia's own journey starting with the revolution. Starting off with a clear and ascending life however as the years go by, life becomes more and more complex. Dreams turn into distant memories as responsibility and bumps along the way happen. While Andrei Platonov was a communist, his novels were often banned due to his criticism towards Stalin regarding collectivization and other policies. It is easy to see why Platonov would leave this novel unfinished out of fear of the consequences.
This anarchic satire is very odd to read, it is fragmented due to it being left unfinished and Platonov's experimental or avant-garde style. There is a complex struggle that comes out in the writing, making this more of the writings of a man trying to understand his own views. This alienating struggle that unfolds on the page is what made Happy Moscow an interesting read because Platonov's writing style was a struggle. Platonov is a philosopher, using his writing to explore his ideas, often drawing on Marxism or Leninism while criticising Stalinism. Stalin obviously did not see Platonov as having any worth in literature but his feelings were some what complex, calling him a "fool, idiot, scoundrel" and then "a prophet, a genius" in the same meeting. Platonov was eventually arrested and exiled to a labour camp as an anti-communist (anti-Stalinist would be a better suited term).
The book I read contained a few short stories and a screenplay with the unfinished novel Happy Moscow. These stories include 'The Moscow Violin', 'On The First Socialist Tragedy', 'Father' and 'Love for the Motherland'. While all had their own themes they all seem to have similar threads that tie them back to Happy Moscow. Andrei Platonov was a difficult author to tackle, but I am glad I did it. There are a few more of his novels I would like to get to including The Foundation Pit but I think they will be in the distant future