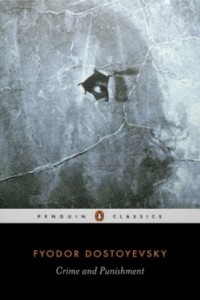 Title: Crime and Punishment (Goodreads)
Author: Fyodor Dostoevsky
Translator: David McDuff
Published: Penguin, 1866
Pages: 671
Genres: Classic
My Copy: Personal Copy

Buy: Amazon (or visit your local Indie bookstore)
While I often find it hard to review a classic novel because we already know it's stood the test of time, it is even harder to review one that has been translated into English as well. Some of the beauty in the writing could have been lost in the translation and because there is so many different translations out there, how do you choose which one to read. This version of Crime and Punishment was translated by David McDuff and I must admit I didn't really notice anything wrong with the translation at all. It was only upon reflecting that I realised that something could have been lost in the translation.
I have to admit I really love Russian literature and Crime and Punishment will be the front runner for my favourite Russian piece of literature. Raskolnikov is a conflicted character; he is showing a lot of interest in the classes and thinking he is of a higher class than others believes he has the right to commit murder. Contrary to the title, this novel doesn't really focus on the crime or the punishment but rather the inner turmoil of Raskolnikov as well as the impact on his intellect and emotions. It is not until the very end that the sense of guilt overwhelms him and he confesses and ends his alienation.
Despite the rest of the characters in this book, the bulk of this novel plays out in the mind of Raskolnikov. Fyodor Dostoevsky must have been a very skilled writer to be able to get into the mindset of such a deranged mind. While the murder of two people is definitely a crime, I think the moral that comes across in this book is that the biggest crime was that Raskolnikov placed himself above his fellow man. I wonder if Dostoevsky was trying to also show the reader the dangers of rationalism and maybe utilitarianism.
I'm really surprised how fast I got through this book and the fact that I really enjoyed this book even though I was warned time and time again that this was a very difficult book and not to expect to enjoy it. I'm a huge fan of a book that deals with the inner turmoil of a person especially in a macabre way. It reminded me so much of Markheim by Robert Louis Stevenson and makes me wonder if books like the Dexter series by Jeff Lindsey were influenced by this classic novel. I have a feeling that I will be thinking about this book for a long time and might have to reread it one day.
Related Posts