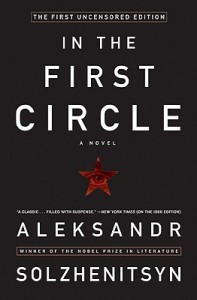 Title: In the First Circle (Goodreads)
Author: Aleksandr Solzhenitsyn
Translator: Harry Willets
Published: Harper Perennial, 1968
Pages: 784
Genres: Classic
My Copy: Paperback

Buy: Amazon, Book Depository, Kindle (or visit your local Indie bookstore)
Moscow, Christmas Eve 1949; a man makes a phone call to the American embassy to warn them about the Soviet Atom Bomb project. This call was caught on tape and quickly disconnected by The People's Commissariat for Internal Affairs (NKVD). A brilliant mathematician named Gleb Nerzhin, was taken as a sharashka (known as zeks) prisoner and ordered to help track down the mystery caller. The zeks know that they have it better than a "regular" gulag prisoners but they are faced with the moral dilemma; to aid a political system they oppose or be transferred to the deadly labour camps.
Aleksandr Solzhenitsyn is a Russian author as well as a historian; he was also a critic of Soviet totalitarianism which found himself in prison much like Gleb Nerzhin. He was accused of anti-revolutionary propaganda under Russian SFSR Penal Code (Article 58 paragraph 10) which is a 'catch-all' criminal offence that could be used against anyone that might threaten the government. During the period of Stalinism, the crime of "propaganda and agitation that called to overturn or undermining of the Soviet power" jumped from a six month prison sentence to seven years of imprisonment, with possible internal exile for two to five years. On 7 July 1945, Solzhenitsyn was sentenced to seven years in a labour camp for comments he made in private letters to a friend. After his sentence ended, Solzhenitsyn was then internally exiled for life at Kok-Terek, which is in the north-eastern region of Kazakhstan.
The First Circle was self-censored before Aleksandr Solzhenitsyn even attempted to get it published in 1968. Originally the book was 96 chapters long but the censorship turned the novel into 87 chapters. Some changes included the man telling another doctor to share some new medicine with the French instead of warning the Americans about the atom bomb. All mention of the Roman Catholics and religion was also removed. It wasn't till 2009 a new English translation (not sure of the details on the Russian editions) saw the book restored and uncensored; now with the title In The First Circle.
The title alone is fascinating and it allows the reader to pick up on the whole metaphor before starting the novel. Looking at Dante's Inferno, it is easy to find that the first circle of hell is limbo. In the epic poem Virgil introduces Dante to people like Socrates, Plato, Homer, Horace and Ovid. The time between Jesus' crucifixion and resurrection is often referred to as the Harrowing of Hell, in which he descended into limbo and brought salvation to the righteous. However in Dante's Inferno this meant that Christ saved people like Noah, Moses, Abraham and King David, but a lot of the intellectuals where left. This is metaphor for the penal institutions, making reference to all the intellectuals and political thinkers arrested under Stalin's Russia.
This novel made me feel a lot smarter than I actually am, there is a lot of information within In The First Circle however Aleksandr Solzhenitsyn presented them in accessible way. Going into the book I knew a little about Solzhenitsyn's life and the metaphor in the title was explained in the Goodreads synopsis. So I was able to witness how everything came together without doing any research. The book sometimes goes into Russian history; I was fascinated with everything I learnt.
I have read so many books set in Cold War Russia but I don't think there have been many actually written by a Russian. Aleksandr Solzhenitsyn has lead an interesting life and I am keen to read more of his novels before attempting The Gulag Archipelago, his three volume book on the history of a gulag labour camp. If you have paid attention to my best of 2014 list you would have noticed that In The First Circle did make the list. This was a wonderful book that was both thrilling and educational, I would recommend it to anyone interested in Russian history, especially the Cold War era.
Related Posts