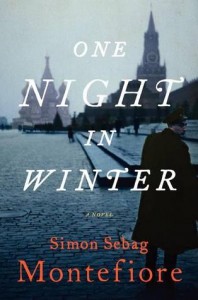 Title: One Night in Winter (Goodreads)
Author: Simon Sebag Montefiore
Published: Harper Collins, 2013
Pages: 480
Genres: Historical Fiction
My Copy: Library Book

Buy: Amazon, Book Depository, Kindle (or visit your local Indie bookstore)
Moscow 1945, the Soviet Union is preparing for their Victory Day celebration on the 9th May, celebrating the defeat of the Germans. While Stalin and the rest of Moscow is celebrating, on a nearby bridge a teenage boy and girl lie dead. Was it murder, a suicide pact or part of a bigger conspiracy against the Bolshevik state? Stalin himself is interested in this investigation which at the centre of it all is an exclusive school where all Russia's most important leaders send their children.
Simon Sebag Montefiore1 is a British journalist and historian who has written many books about Russia including two biographies on Joseph Stalin (Young Stalin and Stalin: The Court of the Red Tsar). His book Stalin: The Court of the Red Tsar went on to win multiple awards including the now defunct History Book of the Year at the British Book Awards. It is with this background he wrote One Night in Winter, his third novel set in Soviet era (the other two being My Affair with Stalin and Sashenka).
While the novel is set around the deaths of a teenage boy and girl, One Night in Winter starts off with our protagonist, Andrei. Having returned with his mother from exile in Stalinabad (known Dushanbe, Tajikistan2) for the sins of his father, Andrei is determined to start a new life. This included being enrolled into the exclusive School 801, where he wants badly to fit in and make friends. This is the school which the country's top leaders send their children, and he quickly falls in with a group of people who are trying to start their own literary movement; The Fatal Romantics.
The Fatal Romantics are inspired by the workings of Alexander Pushkin and in particular, his novel in verse, Eugene Onegin. Despite the fact Pushkin is a cultural icon and even one of Joseph Stalin's favourite poets, The Fatal Romantics are playing a dangerous game, one could be accused of bourgeois sentimentalism or being un-Bolshevik. The rules for The Fatal Romantics club were as followed;
We suffocate in a philistine world of science and planning, ruled by the cold machine of history.
We live for love and romance.
If we cannot live with love, we choose death. This is why we conduct our secret rites; this is why we play 'The Game'.
What stood out to me the most about One Night in Winter was the amount of research that seemed to go into this novel; the afterword from the author even goes into details about historical inaccuracies and why facts were changed for the story. I appreciate this in a piece of historical fiction and made me more trusting of what I was reading. Because this novel was a campus type novel, featuring a literary movement, set in Russia, I had high hopes for the book and it did not let me down. There are a few problems I did find with the book, however for the most part, I was completely sucked in.
I have not read Simon Sebag Montefiore's non-fiction but I am interested in reading a biography or two on Joseph Stalin. I got the impression Montefiore is a little sympathetic towards Stalin and might lead to a bias view in a biography. Being aware of his opinions towards this tyrant will allow me to go in with a different expectation. One Night in Winter gave a great insight of the cultural and mindset of the people living through the Soviet era, and I found it to be a compelling read.
Information about Simon Sebag Montefiore can be found in the author bio from this book or else try Wikipedia ↩
Related Posts