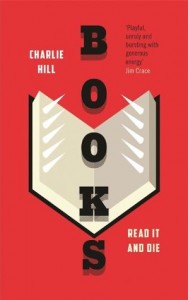 Title: Books (Goodreads)
Author: Charlie Hill
Published: Tinder Press, 2013
Pages: 242
Genres: Humour
My Copy: Library Book

Buy: Amazon, Book Depository (or visit your local Indie bookstore)
When two tourists drop dead, it peaks neurologist Lauren Furrow's interest and seeks out indie bookseller Richard Anger to help her uncover this mystery. What they find is something unexpected. Have you ever read a book so mediocre that your brain stops working? Best-selling author Gary Sayles's books are doing just that. Charlie Hill's Books will take a satirical look at the state of our book industry today.
This novel starts out with Richard Anger, an angry book seller with the best bookshop ever mentioned in a novel. "A bookshop full of long-forgotten noir fiction, modernist classics, chapbooks, transgressive experimentation, translated erotica, minimalism, short stories, satires, samizdat, surrealist poetry and smut." This is the kind of book shop I would love to spend my time in, it's the type of store I would love to own; it just sounds amazing. Is it bad that I identified and really enjoyed the character of Richard Anger? I just thought his whole attitude and personality really tied the book together, offsetting the humour with some bitterness.
As this is a satire, I paid closed attention at what Hill was parodying. A particular favourite of mine was the literary critic, who was a blogger. As a book blogger I've heard it so many times, people calling blog reviews into question and while running a blog gives you more freedom to explore your own style and voice but that doesn't mean what we say is less relevant. This tiny dig at literary criticism amused me greatly but then again I enjoyed the many little pokes being made at the book industry.
As an overview of this novel, Books is satire on the sheer amount of books that are extremely similar being published. You know the styles, I won't point out books but there are heaps of examples of books that feel very much like a carbon copy of a similar book that was popular. There are genres out there that have the same thing being published over and over again because they sell. Books takes a look at this practise and just made fun of it.
People are devouring these books that are so similar that they all die from SNAPS (Spontaneous Neural Atrophy Syndrome).  Books reads similar to a thriller but there are so many laugh out loud moments. I love how on the surface this novel seems like a genre-based novel but if you explore it a little deeper you see so much. You can spend a lot of time trying to dissect Books and seeing everything Charlie Hill is doing here.
If you are a fan of books and want a good laugh at the expense of the book industry, then Books is for you. I had so much fun reading this book and equally as much fun thinking about what is written. I picked up this book because I love books about books and satire and I was not disappointed. This could be on my best of 2014 list but it is way too early to tell. Highly recommend Books, it is fun to read and you'll enjoy the fun it made at the book industry.
Related Posts