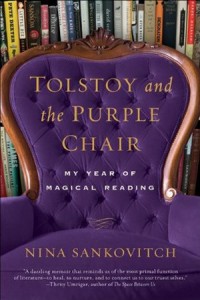 Title: Tolstoy and the Purple Chair (Goodreads)
Author: Nina Sankovitch
Published: Harper Collins, 2011
Pages: 241
Genres: Non-Fiction
My Copy: Audiobook

Buy: Amazon, Book Depository, Kindle (or visit your local Indie bookstore)
When Nina Sankovitch lost her eldest sister to cancer, she grieved for a long time. However when she turned forty six, she decided to stop her grief by reading. Tolstoy and the Purple Chair is the memoir of a year of reading, dealing with loss and loving books. Reading a book a day Nina learned about the magical healing powers of books.
I started reading this book as soon as a finished Ex Libris; I wanted to continue in the joys of personal essays about reading and thought this one would be a good choice. While there is a lot of beauty in the writing, especially in the tender moments about her sister and dealing with her death, something just was not quite right. I spent a lot of time thinking about why this book did not work for me; I just could not put my finger on what was causing the problem. Then I realised this book is just a repetitive conversion narrative.
What I mean by conversion narrative (there probably is a better name for this) is something like Confessions by St. Augustine; where the author writes about all their problems and how they miraculously were saved. This isn't normally a religious journey like Eat, Pray, Love by Elizabeth Gilbert but it is often a memoir of a struggling person that found a way to heal and have a better life. Tolstoy and the Purple Chair has that same formula over and over again; "I was grieving and then I found books", "I had another problem so I picked up a book".
Then there is the overly ambitious task of reading a book a day; from the start of the book I saw it to be problematic when she wanted to only read books about 200 pages. Then there was a moment where she didn't want to read her son's favourite book Watership Down by Richard Adams because it was almost 500 pages. The whole idea of 'quality over quantity' came to mind; what happens when you want to take your time with a book?
In theory the idea of reading so much might sound good but there is so much practicality that gets in the way. Nina Sankovitch does explore these day to day problems but more so in a way where cooking dinner or having a sick kid is getting in the way of her reading project. I like reading about someone taking up a reading project and documenting the results but I think this didn't work. If you want something similar try The Year of Reading Dangerously by Andy Miller.
Related Posts