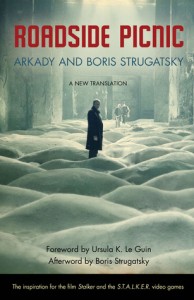 Title: Roadside Picnic (Goodreads)
Author: Arkady Strugatsky, Boris Strugatsky
Translator: Olena Bormashenko
Published: Chicago Review Press, 1972
Pages: 209
Genres: Science Fiction
My Copy: Paperback

Buy: Amazon, Book Depository, Kindle (or visit your local Indie bookstore)
Aliens have made contact, or have they? Thirteen years after the visitation, an international science cooperative has locked up each landing site, dubbed Zones in an effort to study the unexplained phenomena. Red Schuhart is a stalker, someone that sneaks into the zones and tries to collect artefacts. Despite the legal ramifications, artefacts on the black market sell really well. When Red puts together another team to collect a "full empty" everything goes wrong.
The attempts to gain publication of Roadside Picnic is a story in itself; like most Russian literature this novel was originally serialised in a literary magazine. Attempts to publish in book form took over eight years, mainly due to denial by the Department for Agitation and Propaganda. The heavily censored book that originally was published was a significant departure to what the authors originally wrote. I am unclear as to whether the new translation I read corrected this censorship, to quote the back of the book "this authoritative new translation corrects many errors and omissions". I know some of the corrections made included to the original translation starting thirty years after the visitation rather than thirteen but unsure what else was changed. However, despite the censorship and notwithstanding the fact this novel was out-of-print in America for thirty years; Roadside Picnic is wildly regarded as one of the greatest science fiction novels of all time.
The title Roadside Picnic refers to the visitation and the fact that they never made contact with humanity. The novel plays with the idea that intelligent life wouldn't want to make contact with the human race. One look at humanity, full of all the violence towards each other, aliens would conclude that humans are not intelligent life forms but rather savages. One character within the novel, Dr. Valentine Pilman compared the aliens visit to that of an extra-terrestrial picnic.
"Xenology is an unnatural mixture of science fiction and formal logic. At its core is a flawed assumption—that an alien race would be psychologically human."
It is fascinating to look at humanity in a first contact novel and it reminded me of how much I've enjoyed the psychological/philosophical science fiction novels that seemed to be produced in the 1960s and 70s. However Roadside Picnic went deeper; like most Russian novels of this time, there was a strong reflection on society at the time. Like I said before, I am not sure if this edition still holds the Soviet censorship but I was impressed by the subtle look at society. It wasn't just a poke at the Soviet Union but rather a look at humanity under an unidentifiable superpower. This could be an American superpower and it looks at ideas of what might happen if the government prohibits the people from gaining access to the biggest scientific discovery of their time. You have a struggle between quarantined verses legitimate scientific research, playing with the moral idea of government regulated technology.
Moving away from the themes, Roadside Picnic is a thrilling and beautifully written novel. Red Schuhart almost comes across as a hard-boiled narrator but less cynical; he remains a wide-eyed curious protagonist throughout the narrative. A surreal, tense story that threw out the rules found in a 'first contact' novel and ended up redefining the genre. It went on to challenge some of the ideas in the study of xenology and perhaps even ufology.
Arkady and Boris Strugatsky have been the authors of over twenty science fiction novels, their unique style of blending Soviet rationalism with speculative fiction can be found throughout their books. Roadside Picnic remains their masterpiece and inspired the Russian cult classic movie Stalker (1979) directed by Andrei Tarkovsky. Arkady and Boris Strugatsky wrote the screenplay for Stalker and then the novelisation; no idea why you need a novelisation of a movie that was based on a book. Roadside Picnic is an amazing novel, and reminds me why I love Russian science fiction. The blend of social commentary and science fiction is what I continue to look for when searching for books in this genre.
Related Posts