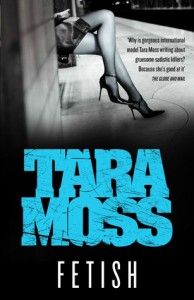 Title: Fetish (Goodreads)
Author: Tara Moss
Series: Makedde Vanderwall #1
Published: Harper Collins, 1999
Pages: 325
Genres: Crime, Thriller
My Copy: Library Book

Buy: Amazon, Book Depository (or visit your local Indie bookstore)
Makedde Vanderwall is a Canadian model on assignment in Australia. The advantage with some work down under is the fact that she will get to see her good friend Cassandra again. But when Cassandra is found dead by Mak she finds herself in a cat and mouse game to catch the killer before he gets her. Who can she trust and where can she turn when she's a stranger in a land without any friends?
Makadde is a beautiful, tall and curvy international model who is studying psychology; she's basically Tara Moss. Model turned author Tara Moss gets to live out all the thrilling adventures she wants through Makedde, not that I can say this is semi-autobiographical but I'm sure Moss wishes it was to some extent. These similarities really give this novel an authentic voice, about modelling as well as the creepy stalker (in which I suspect Moss has had) that ends up being the serial killer known as the Stiletto killer.
Not that I have anything against this book, in fact it is off to a good start for a thriller series, I just never really get into this bestseller formula. All those bestselling crime thriller writers enjoy great success with their books but I tend to think they all feel the too similar. I'm glad Tara Moss broke into the market with such success. It opened up to more in this series and then eventually trying something a little different with her Pandora English series.
Makadde is a tough intelligent woman in the wrong place at the wrong time but I would have liked to see her be more of a bad ass and really kick butt. There are times where this side of her comes out but for the rest of the time everything feels very convenient. Moss has a lot of great ideas for Mak and I did think maybe too many of them were pushed into this novel. It's a case of first novel, too many ideas. I'm not sure what to expect from the rest of the series but I suspect now she has dealt with a similar situation she can now kick ass and take names. I hope to see her become more of a Phillip Marlowe type character, but with a model turned PI it may be wishful thinking and too much to expect.
There are six books in the series but I have to wait till book four for Mak to become  forensic psychologist and PI, so I'm not sure if I want to wait that long. Fetish was an entertaining read and maybe the series is just off to a slow start. Part of me wants to continue and watch Moss grow as a crime writer but part of me thinks there are too many books in the world to read already. I feel conflicted and I'm not sure what to do, I think I will keep Split close by for when I need something light and entertaining. When I say Fetish was just a light read, this doesn't mean it's predictable; I found myself surprised with some of the twists this book takes and I never did work out who the killer was till Moss was ready to reveal it.
There are good and bad parts of this book, I was not fully satisfied with the novel but as this is the first novel, I'm willing to forgive far more. I will let you know how I go if I ever pick up Split but for now I would like people to tell me what they thought of Fetish, Makedde Vanderwall and the rest of the series. I need to know if I should continue and what people think of the novels. Tara Moss's influences include Thomas Harris and Patricia Cornwell  and I can see these influences coming through. I would like to see more of Thomas Harris in her books; I like the dark and psychological elements of the Hannibal series.
Related Posts