Every year my wife, sister-in-law and I try to watch all the Best Picture nominations before the Oscar awards. This is something that never happens, due to the availability of movies in our city but for the first time ever we managed to see all nine nominations this year. I know the Oscars are over and The Shape of Water has already won but I thought I should write a little about each movie. I want to get better at analysing movies and if I do not practise, I will never get any better.  
So why not have a mini review of all the nine movies? I have decided to do this in order of my least favourite to favourite, as a way to show which movies I think were more deserving to win. Do not get me wrong, I think The Shape of Water was a great movie and I am happy to see it win, it just was not my pick.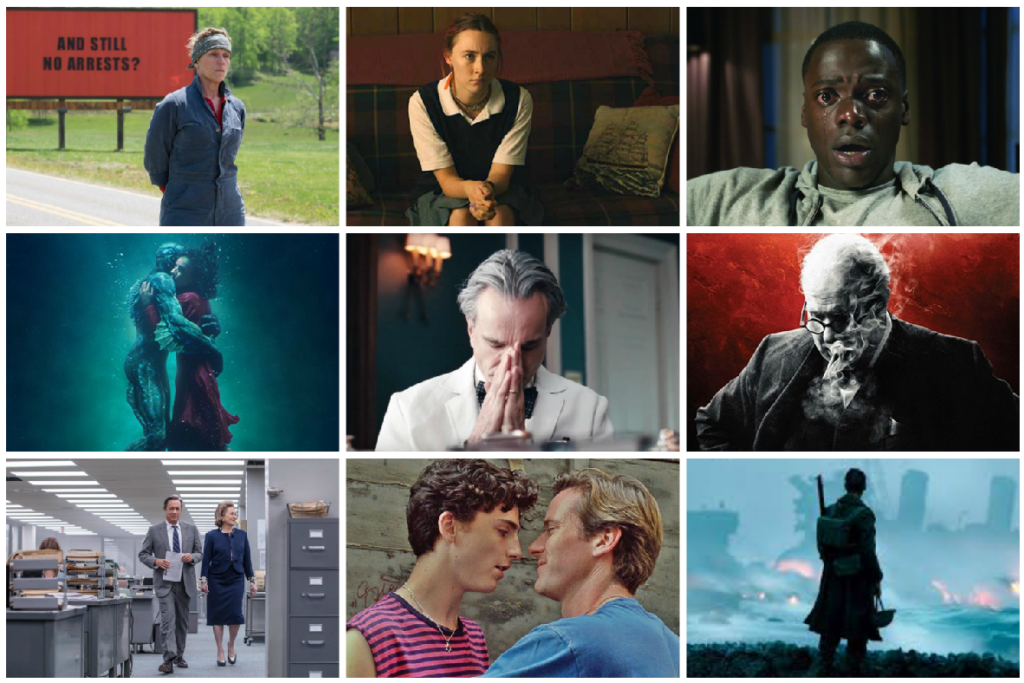 Dunkirk (written, directed, and produced by Christopher Nolen) 
This is a movie about the hundreds of thousands of Allied soldiers trying to retreat out of Dunkirk. The German soldiers have them backed into a corner and leave them as easy targets for some dive-bomber attacks. This film is often been noted for its historical accuracies, even acknowledged by Dunkirk survivors as realistic. For this reason alone, I can see why this film was nominated. However I felt that this was too much of a generic war movie, with very little time to develop characters. In fact most of the characters looked too much alike in their uniforms that I was only able to recognise some actors, namely Kenneth Branagh, Cillian Murphy and Tom Hardy.  
Action sequences and a deeper understanding of this battle are the two big draws for this movie, but everything else was lacking. Christopher Nolen added his signature style but I tend to disagree with the critics that called this one of the greatest war films of all time. For me that title goes to films like All Quiet on the Western Front (1930), The Bridge on the River Kwai (1957), Apocalypse Now (1979), Full Metal Jacket (1987) and Saving Private Ryan (1998). I was tempted to include Downfall (2004) but I think that maybe that is more a biopic in vein of something like Darkest Hour.  
Call Me by Your Name (directed by Luca Guadagnino) 
Based on the coming of age novel written by André Aciman, Call Me by Your Name is the story of the relationship between a seventeen year old boy named Elio and a 24-year-old graduate student, Oliver. Timothée Chalamet did an excellent job in the role of Elio, learning Italian, piano and guitar for the role, plus some of the best acting I have seen from a new comer in a long time. While Oliver, played by Armie Hammer, just served as eye candy.  
There is a slow burn to this movie that seems to work well with the story they are trying to tell. However I feel like the story was too much like that often seen in young adult novels. Especially the love triangle with Esther Garrel doing an excellent job as Elio's girlfriend Marzia. The cinematography and actor was amazing, I felt the story was its biggest letdown. Having said that, I do believe they did a respectful job at portraying a same sex couples' relationship. The highlight of this movie was the final scene of Timothée Chalamet sitting in front of a fireplace with nothing but his facial expressions telling the story.  
The Post (directed by Steven Spielberg) 
This movie is Oscar-bait if I have ever seen it. Based on the events surrounding the leak of the Pentagon Papers, this film was written by Liz Hannah and one of the Spotlight writers, Josh Singer. There is not much I can say about this movie apart from the fact that I enjoyed learning more about the battle between the US president and the press. This was an obvious jab, with references and allusions to the current president, Donald Trump throughout the movie. I expected more from Meryl Streep's portrayal of Katharine Graham, I was not sure what direction they were taking. I understand this would have been Katharine Graham's first major decision as The Washington Post's head publisher but her acting was not convincing.  
The film ends with the break at the Watergate, which seems to connect the movie almost perfectly to All the President's Men (1976). A classic film my wife and I watched after seeing The Post. A far better movie but I had to appreciate the way these two films connect together. Sadly All the President's Men only mentions Katharine Graham once and that was a reference to her breasts.   
Darkest Hour (directed by Joe Wright) 
While Dunkirk was about the war raging on in Western Europe, Darkest Hour is about the politics happening back in the United Kingdom. Winston Churchill, appears to be trending in film and television at the moment but Gary Oldman probably did the best depiction. There was something about the way Oldman portrayed this Prime Minster that felt so genuine, it was easy to suspend disbelief and see him as Churchill. That was until there was some awkward dialogue to remind you that this is in fact a film.  
This is an interesting look at the politics that happen behind the scenes. Interesting how they dumped a Prime Minster because they were not happy with how he was handling the war. The scenes in the parliament are the standouts in this film. The use of lighting made these scenes far more dramatic and served to empathise the importance of this decision making process; into darkness or into light.  
Phantom Thread (written and directed by Paul Thomas Anderson) 
This period piece stars Daniel Day-Lewis as a couturier (a high-end dressmaker) who is so devoted to his art that finds little time for relationships. Living with his sister (Lesley Manville) he falls in love with a young waitress, Alma (Vicky Krieps). Aesthetically this is a visually pleasing film and combining that with Daniel Day-Lewis' masterful acting there is so much to like about this movie. The power struggle of the relationship between this renowned fashion designer, Reynolds Woodcock and Alma quickly turns this into something far darker than expected.  
The sound editing in one breakfast scene alone, was enough to showcase just good this film is. With these sounds, the viewer was able to experience the same irritations as Daniel Day-Lewis. While this was a disturbing tale, the beauty of the film is what stuck out to me the most. The story was weird and never sat right with me but I think plot took a back seat to the visuals, sound and acting in this one.  
The Shape of Water (directed by Guillermo del Toro) 
We have come to expect an aesthetically pleasing film from Guillermo del Toro and he did not disappoint. The Shape of Water has a gritty Cold War vibe to it that reminded me very much of Rapture in the BioShock game. I appreciate the set design, it was so good that it is like the background is telling a story. This is a film about misfits finding each other more than a love story between a mute woman and a fish man.  
Sally Hawkins is an extraordinary actress and I do think I have even seen her in a role where her performance let down the movie. Her role in Maudie (2016), along with this one will serve as evidence of her great ability. People often talk about how great Daniel Day-Lewis' acting is, but I think Sally Hawkins can give him a run for his money. It was nice to see Michael Shannon doing what he does best, and that is antagonising everyone. Finally, Richard Jenkins and Octavia Spencer were outstanding in their supporting roles.  
Get Out (written and directed by Jordan Peele) 
I would have been very happy if this film won the Best Picture Oscar. This satirical horror film deals with many relevant race issues in such a unique way. Get Out is a power look at the racial problem in America, in particular taking shots at liberals who consider themselves 'allies' in the movement against racism. The people that go out of their way to demonstrate they are no racist to the point that is just uncomfortable. There is so much going on in this film it is hard to cover it all in a mini review.  
This is a must see film, filled with so many hard hitting truths that Jordan Peele decided to change the ending just to make it happier. For me this is the biggest let down, because the tone change at the end is so jarring. I think the original intended ending would have had a far bigger impact to the message Peele was trying to say. Get Out did win Best Original Screenplay at the Oscars making Jordan Peele the first black person to win this award.  
Lady Bird (written and directed by Greta Gerwig) 
Lady Bird is the coming of age story of Christine "Lady Bird" McPherson living in Sacramento, who cannot wait to leave for college to a city with culture. This is probably the most indie 'arthouse' of the movies to make the list but I loved this movie because it was just full of teenage angst. There were so many interesting characters and both Saoirse Ronan and Laurie Metcalf had standout performances.  
I loved this movie partly because I think Saoirse Ronan is amazing and partly because I identified with the angst of growing up in a town like that. It was a film of such rich characters, and I would love to see a movie about Lady Bird's best friend Julianne "Julie" Steffans, played by Beanie Feldstein. This is another movie to star Timothée Chalamet and his role was very different to that of Call Me by Your Name. Both Saoirse Ronan and Timothée Chalamet are destined for greatness.  
Three Billboards Outside Ebbing, Missouri (written, produced, and directed by Martin McDonagh) 
There is something very unique about Three Billboards, it was so fresh and original. We left the cinema with such joy (despite the dark themes) similarly because it is so rare to see something so different. Frances McDormand and Sam Rockwell both had outstanding performances and they were rewarded at the Oscars for that. However it was hard to believe Woody Harrelson and Abbie Cornish as a married couple. Three Billboards is the story of a grieving mother trying to find closure for the brutal rape and murder of her teenage daughter. To put pressure on the police she rents three billboards to remind them that this case is still unsolved.  
This is a very polarising movie, that people either love or hate, and I can understand the criticism. Despite the themes of grief and hatred, this film seems to be more about people putting aside their differences in order to heal. The film has also inspired activist groups to adopt similar methods to get their message across, with over five different groups hiring billboards and bus advertisement to spread their message.