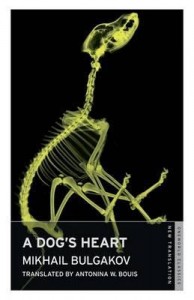 Title: A Dog's Heart (Goodreads)
Author: Mikhail Bulgakov
Translator: Antonina W. Bouis
Published: Alma Classics, 1925
Pages: 144
Genres: Classic
My Copy: Library Book

Buy: Amazon, Book Depository, Kindle (or visit your local Indie bookstore)
Serge Voronoff is a surgeon born in Voronezh, Russia and later a naturalised French citizen, famous for experiments implanting animal testicles into humans. This was during a time when xenotransplantation research was trending and in 1889 he injected himself under the skin with a combination of ground-up dog and guinea pig testicles. He theorised that the animal implants will help increases the hormonal effects to retard ageing. However his methods quickly lost favour when it was discovered any improvements were a result of the placebo effect. This real life scientist helped inspire Mikhail Bulgakov's novel A Dog's Heart (also known as Heart of a Dog).
While foraging through the garbage on winter night in Moscow, 1924 a stray dog is found by a cook and given a scrubbing with hot water. While waiting his end, the dog lies there in self-pity, but to his surprise a successful surgeon Filip Preobrazhensk comes and gives him a piece of sausage. The dog followed Filip home where he is give the name Sharik, which is a word to describe a well pampered dog. Very experiments were performed on Sharik, including various transplants of human organs until he was transformed into an unkempt human and given the name Poligraf Poligrafovich Sharikov.
Having read a few books by Mikhail Bulgakov, I have come to expect one thing; social satire on the state of Communist Russia. A Dog's Heart has this in spades, satirising the Communist ideal of the New Soviet man, while even criticising eugenics. The New Soviet man was an idolised version of what the Communist Party of the Soviet Union believe all citizens should be like. Leon Trotsky wrote about this in his 1924 book Literature and Revolution; "Man will make it his purpose to master his own feelings, to raise his instincts to the heights of consciousness, to make them transparent, to extend the wires of his will into hidden recesses, and thereby to raise himself to a new plane, to create a higher social biologic type, or, if you please, a superman." The New Soviet man (or woman) was selfless, learned, healthy, muscular, and enthusiastic in spreading the socialist Revolution, this was the ideal citizen needed to grow the Soviet nation.
The plot of A Dog's Heart parodies Mary Shelley's Frankenstein while it looks at the idea of the New Soviet man. This gives Bulgakov the ability to look at eugenics as well. Take for example the practices of Serge Voronoff and compare them with Victor Frankenstein. This paints a vivid picture and if the Soviets knew how to create their ideal citizen in a lab there is no doubt in my mind they would be working towards; it is possibly, they were researching a way in secret.
Mikhail Bulgakov seems to have started a tradition of doubling names with patronymic; Poligraf Poligrafovich in A Dog's Heart and Leopold Leopoldovitch in A Young Doctor's Notebook. This could be considered a nod to Nikolai Gogol's with his hero Akakii Akakievich in "The Overcoat". However I have come to learn this is also satirising the new naming conventions adopted during the early Soviet Union. A large number of Soviet children were given atypical names to show their Revolutionary support. This included initialisms, for example; Мэл (Mel named after Marx, Engels and Lenin), Марлен (Marlene named after Marx and Lenin) and Стэн (Stan named after Stalin and Engels).
The more I read from Mikhail Bulgakov, the more I think he was one of Russia's best satirist. I have been slowly working my way through Manuscripts Don't Burn, which is a collection of Bulgakov's letters and diary entries compiled by J.A.E. Curtis. This has been beneficial in gaining insight to the start'of the Soviet Union at the time of writing his novels. A Dog's Heart is one of Bulgakov's better known novels and I am glad to have read it with an understanding of the personal and historical context. I believe The Master and Margarita is Mikhail Bulgakov's best novel but A Dog's Heart is worth checking out too.
Related Posts