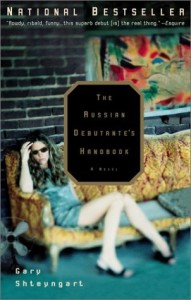 Title: The Russian Debutante's Handbook (Goodreads)
Author: Gary Shteyngart
Published: Riverhead Trade, 2002
Pages: 476
Genres: Contemporary
My Copy: Paperback

Buy: Amazon, Book Depository, Kindle (or visit your local Indie bookstore)
Vladimir Girshkin is not your typical hero, but the unhappy and sickly, twenty-five year old bureaucrat is just that in The Russian Debutante's Handbook. His mother gave him the nickname "Little Failure", he spends his days as a clerk for the Emma Lazarus Immigrant Absorption Society. An encounter with an old Russian war hero leads Vladimir on an adventure away from his job on the Lower East Side of New York to Prague. Surrounded by a Prava expat community Vladimir launches a scheme so ridiculous that it is actually brilliant.
Czechoslovakia was a satellite state of the Soviet Union, ever since the coup d'état of February 1948 when the Communist Party of Czechoslovakia seized power of the country with the help of the USSR. The Soviets call this Victorious February but most people are more familiar with the Velvet Revolution of 1989. This non-violent protest against the one-party government of the Communist Party of Czechoslovakia saw the end of a 41 year rule by the Communist party. Then finally the dissolution of Czechoslovakia into Czech Republic and Slovakia as of 1 January 1993. In the 1990s Prague saw an invasion of expats and the city was often referred to as the "Paris of the 1990s" or "the Eastern European Paris".
As many people are aware, I am a bit of a fan of Gary Shteyngart, he has a way about writing humorous and satirical novels, and I am all too quick to recommend Super Sad True Love Story to anyone that is willing to listen, especially since it is very relevant to today's society. After reading his memoir Little Failure I was surprised to find just how autobiographical his novels were, I had an idea of some of it but not to this extent. Since reading Little Failure, I was determine to read all of Shteyngart's novels starting with his debut The Russian Debutante's Handbook.
This is a highly imaginative novel blending satire with some bizarre humour. I really enjoyed the use of language within this debut but found the rest lacking, although this is a testimony of the growth of Gary Shteyngart as a writer. I have to say that The Russian Debutante's Handbook is a novel for people that enjoy and know what to expect from Shteyngart and I would recommend starting with Super Sad True Love Story (obviously) or maybe his memoir Little Failure. Shteyngart is a brilliant writer and while I did enjoy The Russian Debutante's Handbook, now I need to try his next novel, Absurdistan.