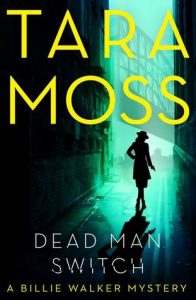 Title: Dead Man Switch (Goodreads)
Author: Tara Moss
Series: Billie Walker Mystery #1
Published: HarperCollins, 2019
Pages: 368
Genres: Crime
My Copy: Library Book

Buy: Amazon, Book Depository, Kindle (or visit your local Indie bookstore)
After 19 books, mainly from her Mak Vanderwall crime series and a YA paranormal series, Tara Moss is trying her hand at hard-boiled fiction. Dead Man Switch is the first book in the new Billie Walker series set in Sydney in the late 1940s. I knew I had to try this book out for two main reasons, one I love hard-boiled literature and was interested in checking out a novel set in Australia and secondly, I wanted to see how Moss would handle the female detective approach.
Without going into details about the plot, it's a missing persons case that leads to Billie Walker uncovering a much bigger secret; I think reviewing this novel needs to focus away from the storyline. Moss really shines in the research and exploring the sexism Billie faces in her work. Dead Man Switch never refers to Billie Walker as a detective, it does make references to her as a private investigator and this stood out to me because Australian laws does not permit the use of the term detective outside the police department. Little facts like this really reminded me of the importance of research and they helped keep the novel hard-boiled without Americanising the plot.
Obviously, gender would play a big role in this book, and Tara Moss seemed to play with this in a fun way; Billie's assistant Sam was happy to help a woman with any task necessary for the case but then others criticised her for taking a man's job. Billie took over the business when her father had died, which is the reasoning behind her profession but now that the war was over, people thought she should leave this kind of work to men that needed work. This was a great way to explore the sexism and gender divide of the era and helped enhance Billie as a strong, take no nonsense character.
I had fun reading this book, and I am interested to see where Tara Moss takes the Billie Walker series. I am very particular in my crime novel picks and I wish this was a little darker and grittier, but I have to respect that Moss has plans for this character. There are not enough strong women detectives in crime novels, particularly in hard-boiled novels, so in a genre normally dominated by boring white men, this is a great change. I have no idea when book two will be released but I will be sure to read it. It is hard to review a crime novel, because the plot and characters play such a significant part of the reading experience, but I hope I have convinced someone to give Dead Man Switch a chance. For all the American readers of this review, this book is called The War Widow on your continent, which gives you a little insight on Billie Walker's social situation.
Related Posts