It's Monday, What are you Reading? is a weekly meme hosted over at Book Date. I thought I'd join in with this meme as a way to be more consistent with my posting schedule, the idea is to post regularly. As I treat this blog as a book journal I thought it might be nice to have this kind of information documented.
One Hundred Years of Solitude by Gabriel Garcí­a Márquez (translated by Gregory Rabassa)
One of the 20th century's enduring works, One Hundred Years of Solitude is a widely beloved and acclaimed novel known throughout the world, and the ultimate achievement of a Nobel Prize winning career.
The novel tells the story of the rise and fall of the mythical town of Macondo through the history of the family. It is a rich and brilliant chronicle of life and death, and the tragicomedy of humankind. In the noble, ridiculous, beautiful, and tawdry story of the family, one sees all of humanity, just as in the history, myths, growth, and decay of Macondo, one sees all of Latin America.
Love and lust, war and revolution, riches and poverty, youth and senility — the variety of life, the endlessness of death, the search for peace and truth — these universal themes dominate the novel. Whether he is describing an affair of passion or the voracity of capitalism and the corruption of government, Gabriel Garcia Marquez always writes with the simplicity, ease, and purity that are the mark of a master.
Alternately reverential and comical, One Hundred Years of Solitude weaves the political, personal, and spiritual to bring a new consciousness to storytelling. Translated into dozens of languages, this stunning work is no less than an accounting of the history of the human race.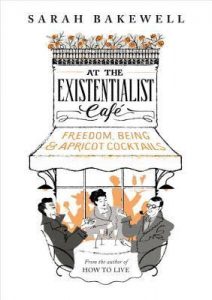 At the Existentialist Café by Sarah Bakewell
Paris, near the turn of 1933. Three young friends meet over apricot cocktails at the Bec-de-Gaz bar on the rue Montparnasse. They are Jean-Paul Sartre, Simone de Beauvoir and their friend Raymond Aron, who opens their eyes to a radical new way of thinking. Pointing to his drink, he says, 'You can make philosophy out of this cocktail!'
From this moment of inspiration, Sartre will create his own extraordinary philosophy of real, experienced life – of love and desire, of freedom and being, of cafés and waiters, of friendships and revolutionary fervour. It is a philosophy that will enthral Paris and sweep through the world, leaving its mark on post-war liberation movements, from the student uprisings of 1968 to civil rights pioneers.
At the Existentialist Café tells the story of modern existentialism as one of passionate encounters between people, minds and ideas. From the 'king and queen of existentialism' – Sartre and de Beauvoir – to their wider circle of friends and adversaries including Albert Camus, Martin Heidegger, Maurice Merleau-Ponty and Iris Murdoch, this book is an enjoyable and original journey through a captivating intellectual movement. Weaving biography and thought, Sarah Bakewell takes us to the heart of a philosophy about life that also changed lives, and that tackled the biggest questions of all: what we are and how we are to live.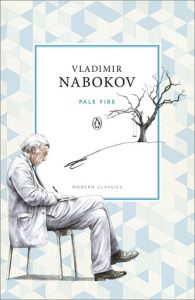 Pale Fire by Vladimir Nabokov
The urbane authority that Vladimir Nabokov brought to every word he ever wrote, and the ironic amusement he cultivated in response to being uprooted and politically exiled twice in his life, never found fuller expression than in Pale Fire published in 1962 after the critical and popular success of Lolita had made him an international literary figure.
An ingeniously constructed parody of detective fiction and learned commentary, Pale Fire offers a cornucopia of deceptive pleasures, at the center of which is a 999-line poem written by the literary genius John Shade just before his death. Surrounding the poem is a foreword and commentary by the demented scholar Charles Kinbote, who interweaves adoring literary analysis with the fantastical tale of an assassin from the land of Zembla in pursuit of a deposed king.
Brilliantly constructed and wildly inventive, this darkly witty novel of suspense, literary one-upmanship, and political intrigue achieves that rarest of things in literature: perfect tragicomic balance.
What Are You Reading?